As the manager of Bridgewater Terraces, together my staff and I have welcomed thousands of local and international holiday makers who selected Brisbane as their holiday destination. However, holiday makers are not the guests we've had the pleasure of welcoming over the years. We've also provided accommodation for a large number of people who were looking for short term accommodation in Brisbane including those in the process of securing permanent residence, students who were in the city taking short term courses, and of course, business travellers who usually had to stay for several weeks or sometimes, even a couple of months.
Bridgewater Terraces is an ideal choice for short term accommodation in Brisbane. Our apartments are spacious, equipped with kitchen & laundry facilities, boast strategic location, and most of all, they are very affordable. In addition, the complex is charming, tranquil, and very relaxing as it is surrounded by well manicured gardens and offers spectacular river views.
Sounds good right? Well that's not the only features we offer. Let me outline some of the other benefits of choosing Bridgewater Terraces for short term accommodation in Brisbane;
Ideal location
Bridgewater Terraces is located in Kangaroo Point, just across the east portion of the Brisbane River. We are just 1 kilometre from the CBD, which you'll appreciate if you need to conduct business in the city centre. We are also 500 metres away from Brisbane Ferry/City Cat which connects you to every district in the capital of Queensland. Meanwhile, the famous Kangaroo Point Cliffs where most locals and visitors have picnic or do great rock climbing and abseiling adventure, is walking distance. We are also short distance to sporting and entertainment centres and Queen St Mall.
Spacious Apartments
It doesn't matter if you're in town for business looking for a 1 bedroom apartment for the next 30 days or you're with your family while your house is being renovated and in need of a 3 bedroom apartment – we have short term accommodation in Brisbane that is perfectly designed to provide you with a homey atmosphere.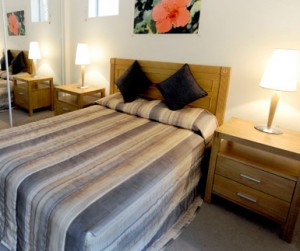 Our 1 bedroom, 2 bedroom, and 3 bedroom apartments are spacious and are ideal for business travellers, couples and families. They are fully furnished and come with fully equipped kitchen and laundry facilities. If you're staying for a couple of weeks or maybe months, you'll appreciate these as this would mean not being forced to dine outside every single day and that would mean a lot of savings. You also don't have to pay for expensive laundry services. In addition, we provide secure underground parking.
Also, each apartment is equipped with air-conditioning and heating system, direct dial telephone, and full entertainment system. On top of that, they also have balcony where you can enjoy a nice glass of wine or coffee while enjoying the relaxing view of the Brisbane River and surrounding gardens.
1 bedroom apartments
Our 1 bedroom apartment features a queen bed, separate lounge area, courtyard or balcony, walk-in robe, ensuite bathroom, flat screen TV that comes with premium Foxtel & DVD player, broadband Internet access, and weekly cleaning service. It can sleep a maximum of two guests.
2 bedroom apartments
You can also expect the same facilities and amenities when your book our 2 bedroom apartment except that you'll have another room that comes with two single beds. This apartment sleeps a maximum of six guests.
3 bedroom apartments
Our 3 bedroom apartments are ideal for groups of friends and larger families, are extra spacious and fully self-contained. Everything I mentioned on the 1 and 2 bedroom apartments, from fully equipped kitchen to the balcony, are also available here. The third bedroom, on the other hand, has two single beds. This can sleep a maximum of seven guests.
Special Rates for short term accommodation in Brisbane
We offer special rates for guests who are staying with us for a minimum of 28 nights. You can make our 1 bedroom apartment your temporary home for just $115 per night instead of $170. You'll also get free room service for each week that you stay with us. Meanwhile, the rate for a 2 bedroom apartment is just $145 per night, while a 3 bedroom apartment is $200 per night.
Bridgewater Terraces offer a total of 38 serviced apartments that are built in a resort style complex surrounded by tranquil gardens. Guests are given access to our world-class amenities including a heated spa, swimming pool, sauna, barbeque area, and gym.
Conclusion:
When looking for the best short term accommodation in Brisbane, know that Bridgewater Terraces is the ideal, especially if you're looking for high quality serviced apartments, affordable rate, and great location. To get more information about Bridgewater Terraces and to see actual photos of the whole complex and the apartments, please head over to our homepage or call us on +61 7 3435 5216.
Related Topics