If you're going to Brisbane but hasn't booked accommodation yet because you don't know the best place to stay, our recommendation is to book an accommodation close Brisbane CBD so you'll be close to where the action is – this is where the great events usually take place. Being close to CBD means being stone throw away from high-end shopping malls, dazzling range of clubs, upscale hotels, laneway bars, and funky eateries. You'll also get the chance to wake up with the amazing view of the tranquil river and towering building that serves as its backdrop.
One of the best and highly recommended Brisbane accommodation options is Bridgewater Terraces. We offer Kangaroo Point apartments that are very close to CBD. However, location is not the only thing that we are proud of. Being committed to making your visit memorable and worthwhile, we also offer spacious apartments that come with fully equipped kitchen and laundry service area. Choose from our 1, 2, and 3 bedroom apartments that offer well-appointed modern interiors and relaxing feel. This makes Bridgewater Terraces one of best Brisbane accommodation choices for couples, retirees, and visiting families.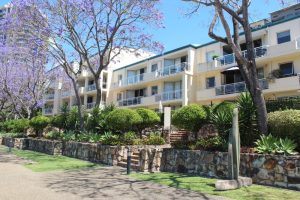 Aside from being close to CBD, booking an apartment with us will also mean that you'll be within walking distance to historical landmarks and other popular tourist destinations. Because of this, we can guarantee that you can maximize your time exploring Brisbane rather than wasting time travelling back and forth from these attractions to your accommodation.
Contact Bridgewater Terraces now and book Brisbane accommodation that is close to the CBD.