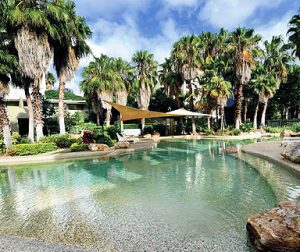 Going on a family holiday is always an exciting time and it's generally something that every family member looking forward to for quite sometime. Typically, this means taking time off from your jobs to spend quality time with your children during school holidays. It's the perfect time to create memories that will last a lifetime. As a family holiday doesn't occur too often, when you do get the chance to take one, it is important that you do your research to ensure that you're not going to be disappointed when it comes to checking into your accommodation. Often, when you go on a family holiday, you're looking for cheap Brisbane accommodation and that's exactly what you get – cheap accommodation. If you're trying to save on your holiday expenses but don't want to sacrifice the quality of your Brisbane accommodation, check out the luxury apartments that we offer here at Bridgewater Terraces. Although our accommodation is affordable, it's definitely NOT cheap.
As one of Brisbane's top accommodation providers, we know a thing or two that can help you secure the cheap Brisbane accommodation for your family holiday that also offers great value for your money. Keep these tips in mind when doing your research:
Check the location of your accommodation
Although you won't want to spend a fortune on your accommodation, you also won't want to book a cheap Brisbane accommodation in the middle of nowhere. Before you book, make sure that the apartment or the hotel has a decent location or is close to all the attractions that you want to visit so you don't have to spend time and money travelling to and from your accommodation. Bridgewater Terraces is conveniently located at Kangaroo Point, a suburb of Brisbane and we are just 1km away from Brisbane CBD and from various restaurants and shops. We are also just 500 metres away from Brisbane Ferry/City Cat.
Check the amenities
Certain types of amenities can definitely make your holiday more relaxing and more enjoyable. When booking a cheap Brisbane accommodation, check out what amenities comes with the cost. At Bridgewater Terraces, you'll get to enjoy complete outdoor facilities that you and your whole family are sure to enjoy. These include heated spa, swimming pool, barbeque area, and a fully equipped gymnasium. The apartments also come with free parking and a kitchenette.
Check the number of bedrooms
If you're bringing the whole family, I'm sure each member will appreciate having their own space. So, look for Brisbane accommodation that can give you the option of booking a two bedroom, or three bedroom apartment, that way you and your children can all have separate rooms. Also, make sure that the apartment is self-contained for your privacy and convenience.
Bridgewater Terraces – Cheap Brisbane accommodation, great value for money!
We understand that family holidays can get really expensive which is why we make it our goal to provide you with cheap Brisbane accommodation that really is great value for your money. Rates for a spacious 2 bedroom apartment, perfect for small families, start from just $145 per night. With this, you'll enjoy not just a spacious self-contained apartment, but a great location and amazing amenities as well. For cheap accommodation in Brisbane, book one of our apartments. To make a booking, phone the reception on +61 7 3435 5216. If you have questions or need more assistance, please contact us here.

Related Topics