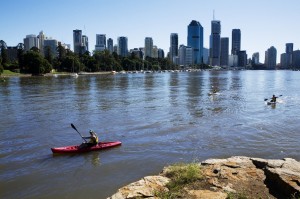 Going on a holiday with the whole family is something that most of us can only afford to enjoy once every 2-3 years. The cost of airfare, particularly if you're going overseas, can cost as much as the holiday itself. On top of that, you'll have to pay for your accommodation, food & drinks, and the cost of your travels. But what if it didn't have to be this way, what if money wasn't a problem? What if you were able to book cheap accommodation in Brisbane that was so affordable that you were able to have a much needed break every year?
This is something that we'd like to help make happen which is why, at Bridgewater Terraces we offer cheap accommodation in Brisbane. With affordable rates that start as low as $115 per night, you and your family will be able to enjoy a holiday every year! Our spacious apartments are ideal for families, couples, business travellers, and short term stays. Depending on your needs and your budget, you can choose from our one, two, and three bedroom apartments.
While more and more accommodation providers in Brisbane continue to increase their prices and consciously make it more difficult for holiday makers to find cheap accommodation in Brisbane, we continue to focus on our goal; to give tourists the chance to explore Brisbane without it sending them broke. It is our commitment to provide you with affordable rates whilst offering you all the amenities needed for an enjoyable holiday.
Aside from making sure that all our apartments are well presented, we also provide our guests with access to great amenities including heated spa, swimming pool, and a fully equipped gymnasium. The apartments, which are surrounded by tropical gardens, also come with free parking and kitchenette.
You may be wondering how we can afford to offer you lower rates considering the quality of our apartments and the amenities that go along with them. Well, Bridgewater Terraces is located just outside of the city at Kangaroo Point, just 1km away from the Brisbane CBD and just 15 minutes away from the airport. We are also just 7-minute ferry ride away from Eagle Street Pier, which is an iconic waterfront precinct that offers you with unrivalled views of the Brisbane River and of course, exceptional dining options.
Typically, expensive accommodation is found in Brisbane's CBD or at Southbank, so being just outside these districts allows us to be more flexible with our rates to ensure we have a high occupancy rate.
So, what are you waiting for?
For cheap accommodation in Brisbane, see Bridgewater Terraces

It doesn't matter if you're visiting Brisbane this week or in the next three months. When it comes to saving money on your accommodation, know you can get cheap accommodating in Brisbane if you book just outside the city, like here at Bridgwater Terraces!
Related Topics