If you're looking for short term accommodation in Brisbane because you've relocated from overseas or you've moved to the area to start short term working contract, know that you have different options depending on your specific needs and depending on the circumstances. Below are some of the things that you can consider:
Stay with friends or family
This is one of the most convenient and typically more affordable options. Staying with friends or family while you're currently between homes or while you're in town for short term working contract will help you reduce your travelling costs as you won't have to spend hundreds and thousands of dollars on expensive hotels. This will also allow you to spend more time with people that you adore who can definitely give you support while you're far away from home.
Lease a unit or house
If you're going to stay in Brisbane for at least 6 months, you have the option to lease a unit or house.
Although this is less expensive compared to staying in a hotel or self-contained apartment, it may mean spending money on appliances and furniture unless of course, you lease a fully furnished property.
Book a serviced apartment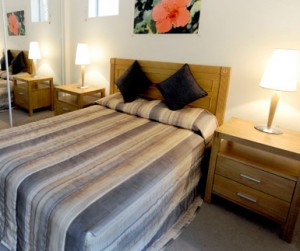 For short term accommodation in Brisbane, a serviced apartment is your best option. Just like you, there are lots of people are looking for accommodation providers that offer short term accommodation in Brisbane; some may be in town for business, some may be in the process of securing a permanent residence while others may be between residences. The beauty of opting to go with short term accommodation is that you are not locked into a lease, they are fully self-contained so you do not need to unpack or go out and buy everything and once you no longer need your accommodation, you can simply check out.
Bridgewater Terraces, Kangaroo Point
For services apartments that are very conveniently located just one kilometre from Brisbane's CBD, consider Bridgewater Terraces at Kangaroo Point. Our apartments will give you that home away from home ambience that you'll appreciate if you're staying for more than a couple of weeks.

We offer one-bedroom, two-bedroom, and three-bedroom apartments that are fully self-contained, fully furnished, and they are very spacious. Each comes with a fully equipped kitchen so you don't have to worry about spending hundreds of dollars dining at restaurants. Also, we provide you with laundry facilities. For your convenience and relaxation, we also provide entertainment system, heater & air-conditioning, and direct dial telephone. You'll also be provided with a secure uncover parking.

With all the amenities and facilities, you might think that you have to spend a fortune to secure short term accommodation in Brisbane. Well, I am happy to tell you that our rates start at just $115 per night. Don't delay, book your stay!

So there you have it, when it comes to short term accommodation, you can stay with friends or family, lease a unit or home, or book a self-contained apartment like those on offer here at Bridgewater Terraces. With so many added benefits you can see why so many people choice this option for their accommodation. We are committed to addressing your needs which why we offer affordable self-contained apartments that are perfect for extended stays. Whatever you choice, we hope you enjoy your stay in Brisbane and hope to see you back soon!

Related Topics