I've been offering Brisbane accommodation for years now and I've recently noticed that guests are being increasing more cautious about spending hundreds of dollars on their accommodation. That is why, when they planning their holiday the first thing they do is search for 'cheap hotels in Brisbane'. Personally, I find this to be great idea; after all, accommodation is just one of your expenses when you're travelling. You'll also have to think about your airfare, land transportation, food & drinks, and shopping so it only makes sense to cut back where possible.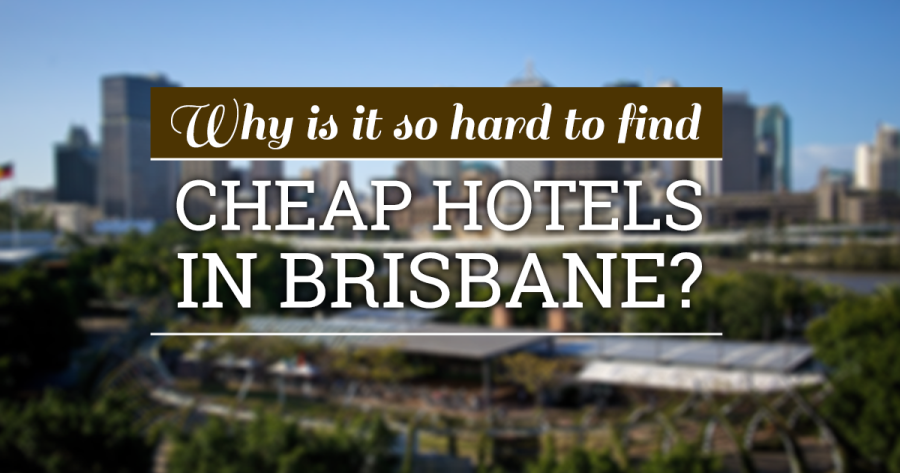 However, there are times when finding cheap hotels in Brisbane can be rather difficult, but why is this so? Off the top of my head, I can tell you it has a lot to do with the season. Brisbane receives millions of visitors from May to October when the weather is at its best. During this time, the city council hosts a considerable number of events and festivals that attract huge numbers. Because of this, the demand for cheap hotels in Brisbane increase exponentially. The laws of supply and demand will tell you that the higher the demand, the more you can expect to pay for a product or service.
Save yourself the trouble of finding cheap hotels in Brisbane by travelling during the low season, which is from December to February, this is when hotels typically offer the best discounts and special promotions like stay for two days and get the third night for free.
Travellers who only focus on finding accommodation either on Southbank or Brisbane CBD will also find it hard to secure cheap hotels in Brisbane. As these are prime locations and are always in-demand, it is very rare that you can find a decent hotel room for less than $150 per night. Your option is to find accommodation outside of these districts without booking a hotel or a serviced apartment in the middle of nowhere. For example, you may consider looking for cheap accommodation in Brisbane at Kangaroo Point, which is 1 kilometre away from CBD and just 15 minutes away from Southbank. Although you will need to commute to get to the attractions and landmarks, you'll be happy to know that you'll be able to save hundreds or possibly thousands of dollars throughout your stay.
During the low season, accommodation providers expect the demand to drop, so their prices tend to follow suit. However this isn't always the case. In the year ending June 2013, although hotel bookings dropped -2.8% to 3,571,000, the room rate increased +1.9% to $179.16 per night. This is because customers were willing to pay the price to get quality accommodation. However, low season is usually the best time to find cheap hotels in Brisbane, even those in prime locations such as Brisbane Southbank and the CBD.
Another reason as to why it's hard to find cheap hotels in Brisbane is of course due to the increasing costs to run and maintain the hotel itself – these costs include employees' salary, rent, marketing expenses, etc. I know from firsthand experience, as these expenses increase, hotel owners have no choice other than to pass it along to customers like you.
Tips to Finding Cheap Hotels in Brisbane
Although finding cheap hotels in Brisbane can be difficult at times, it isn't impossible. Below are my tips to make this happen.
Book during the low season (December to February).
Book in advance. Booking your Brisbane hotel 40 days before your arrival will allow you to get early bird discounts.
Bring along your friends and family. A good way to lower down your hotel bills is to split it with your travel companions. The more you tag along, the cheaper your share will get.
Choose hotels or serviced apartments from districts other than Southbank and Brisbane CBD.
Sign up to newsletters to get information on latest promotions from hotel owners.
Lastly, of all else fails and you like the idea of saving money whilst securing cheap hotels in Brisbane staying at Kangaroo Point, then consider the services apartments we have on offer here at Bridgewater Terraces. Both spacious and elegant, our cheap accommodation offers useful facilities like fully equipped kitchen and laundry facilities. Yet, they cost less. In fact, our rates here for 1 bedroom apartment start at just $145 per night. This apartment can comfortably sleep two to three people. So, if you're going to split the bill with your travel companions, you will end up paying just $50 per night. We also have 2 bedroom apartments and 3 bedroom apartments that are ideal for travelling families and group of friends.
Conclusion:
As Brisbane is one of Australia's most visited cities, finding cheap hotels can get difficult at times. However, by following my tips outlined above, you can make this happen.
Here at Bridgewater Terraces, we offer affordable prices all year long. It doesn't matter whether the demand is high or low, we charge the same low rate. It is our goal to provide every traveller with high quality yet affordable place to stay while they're here in Brisbane. Check out our apartments and rates via the links at the top of this page. Then, book any of our apartments for your next Brisbane holiday.
Related Topics