Southbank is one of the most interesting precincts in Brisbane, with extraordinary cultural and lifestyle offerings. It is positioned in the suburb of South Brisbane, on the south banks of the beautiful Brisbane River, with a large number of parks and gardens, outstanding restaurants, bars and pubs, all kinds of events, so it's no wonder why many people choose Southbank, Brisbane to take a break, unwind, and relax. It is clear why you might be interested in staying in Southbank, but you should definitely consider booking accommodation that is near Southbank rather than in Southbank, somewhere like here at Bridgewater Terrace, which is just 15 minutes away via the City Ferry. By doing so, you can save a great deal on your accommodation to enjoy more of what Southbank has to offer.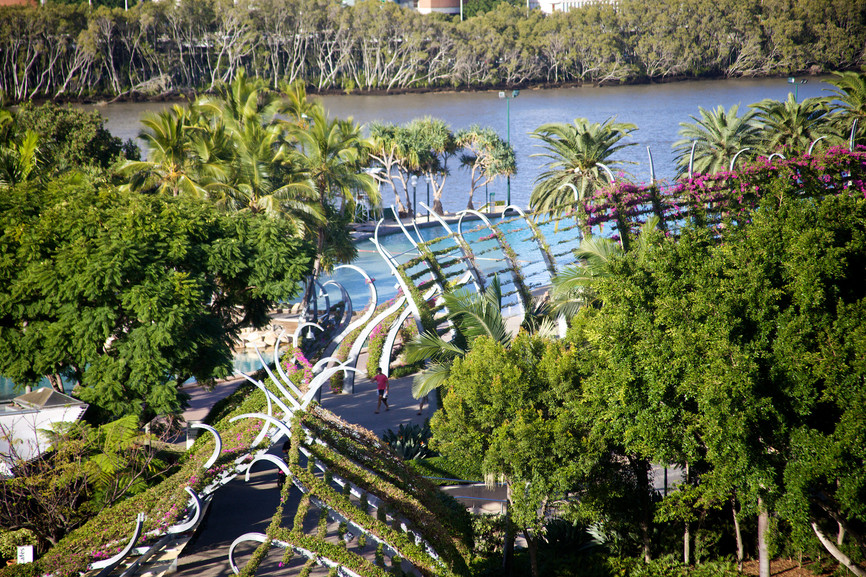 It is no surprise that you want to visit Southbank, as one of the most popular destinations in Brisbane, it certainly has a lot to offer and its where a lot of our guests spend their time while in Brisbane—but just what do you do there? Keep on reading and I will let you know what's hot, and what you can expect to find in this great destination of Brisbane.
What to expect of Southbank, Brisbane
It's not easy to describe Southbank and the incredible things it has to offer in just a couple of words. The precinct provides all the essentials for the holiday of your dreams, such as fun, relaxation, excellent food, events, and more. Every day is a new adventure, because there are so many places to see and explore. For outdoor fun and enjoyment, nothing is better than the Parklands, with huge green lawns, gardens, plants and trees all around. The Parklands is home to the impressive Wheel of Brisbane, which is one of the most popular landmarks and tourist attractions in the city. Just imagine how exiting a ride on the wheel will be – your kids will love it. The great swimming facilities, barbeque and picnic areas, playgrounds, takeaway shops and cafes are a part of the Parkland as well and are a huge draw cards for tourists.
Getting Hungry?
When it's time to eat, check out River Quay. Here, there are many restaurants that have a lovely view of the Brisbane River. It is also the perfect location for a picnic, or you can simply relax in the fresh air, enjoy, and read a book. Little Stanley Street is another interesting stop, with all kinds of retail shops, but it is also an ideal dining destination, with all the bars, cafes, and restaurants around. When you want to catch a break, and have a casual meal, Little Stanley Street is the place to be.
Want to be cultured?
Don't forget to explore Grey Street, also known as the cultural boulevard of Brisbane, where you can expect many different experiences, including cultural, leisure, culinary and artistic ones. Some of the most important cultural institutions of Queensland are located on Grey Street, such as Queensland Museum and Sciencentre, State Library of Queensland, Queensland Art Gallery and Gallery of Modern Art, and Queensland Performing Arts Centre. Grey Street is the home of different exhibitions and events all year. There are many retail shops, and excellent dining places.
Want accommodation near Southbank Brisbane?
As you can see, Southbank is an incredibly exciting place to be, but if you want to save money on your accommodation, and enjoy even more of what Southbank has to offer then you should consider booking your accommodation near Southbank Brisbane (rather than in Southbank itself which can cost in the hundreds per night).
Bridgewater Terraces is an excellent choice as we are located just a 15minute Ferry ride from Southbank at Kangaroo Point. By booking your accommodation near Southbank, with us at Bridgewater Terraces you will find that you save hundreds on your stay. Our rates start at just $155 per night.
Conclusion
Southbank is one of the most exciting and most beautiful areas of Brisbane, with many places to see and explore, such as The Parkland, River Quay, Little Stanley Street, Grey Street and more it's no wonder why it's so popular.
If you want to save serious money on your holiday, consider booking accommodation near Southbank with us at Bridgewater Terraces. Like our Facebook page to stay informed of all our deals and promotions!
Related Topics