As a tourist visiting Brisbane, one of the best ways to fill in a morning, afternoon or even a day is by visiting a local market. Thankfully, Brisbane boasts some fantastic markets, which are frequented by locals and tourists alike.
So, continuing on from my previous series of posts from Part 1, Part 2 and Part 3, here are a few more markets for you to explore on your Brisbane holiday.
1. Eat Street Northshore
If you're a foodie like me, then visiting the Eat Street Northshore markets is a must. It features everything from international cuisine to live performances. Inspired by traditional Asian markets, the Eat Street Markets offer the perfect atmosphere for family and friends to gather.
The Eat Street Northshore is held every Friday and Saturday from 4:00pm-10:00pm and on every Sunday from 11:00am-7:00pm at Hamilton Wharf.
2. Nundah Farmers Markets
There's no better way to start a Sunday than by having breakfast with fresh roasted coffee at the Nundah Farmers Markets. This market also features a range of fresh produce, arts and crafts, flowers and plants, handmade gifts, homewares and much more!
The Nundah Farmers Markets take place every Sunday from 6:00am-12:00pm at Nundah.
3. Northey Street City Farm Organic Market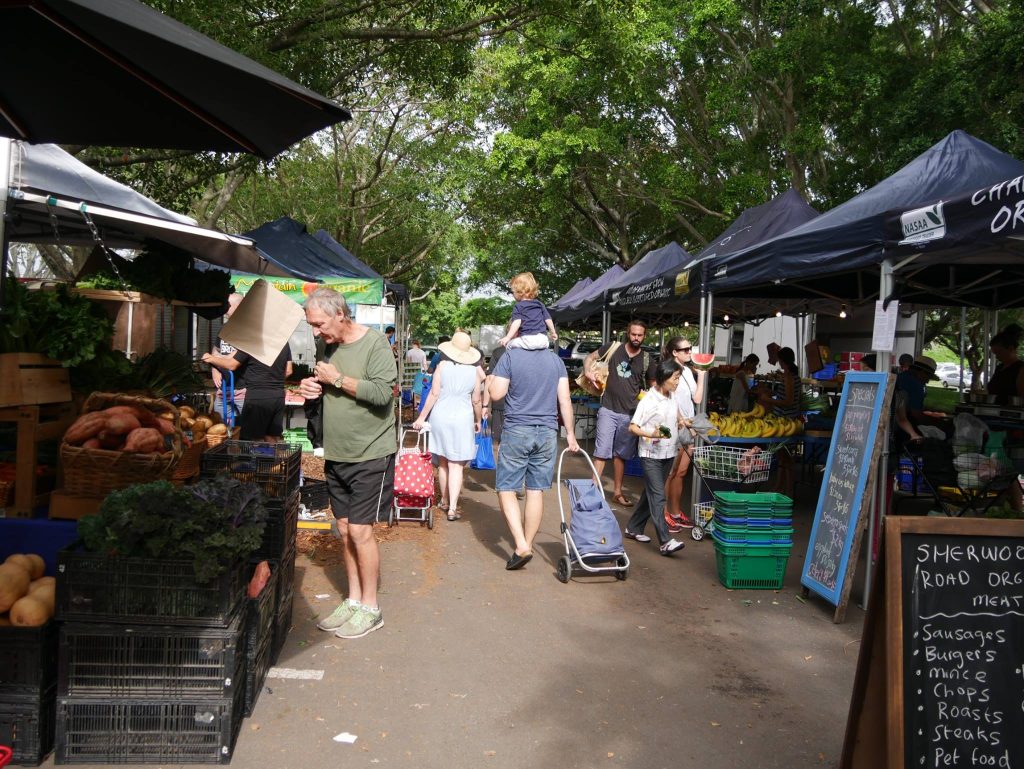 When it comes to organic produce in Brisbane, you'll find it all at the Northey Street City Farm Organic Market. This is Queensland's only market that offers certified organic products. You'll also find activities for kids, free workshops and a range of food stalls at this market.
The Northey Street City Farm Organic Market is held every Sunday from 6:00am-11:00am at Northey Street City Farm.
4. Thank Truck It's Thursday
Treat your taste buds to some delicious food offered by Brisbane's best food trucks at Thank Truck It's Thursday. This food truck gathering features a changing roster of food trucks and stalls and generally stays open till late – or until everything is sold out.
Thank Truck It's Thursday is held every Thursday from 5:00pm onwards at the Wandering Cooks in South Brisbane.
These local markets are certainly some of Brisbane's finest. But, this isn't the end of the list! I will continue with another post where I'll add more markets for you to explore.
And, whilst you're in Brisbane, you'll need affordable accommodation that also puts you close to these markets. For this, look no further than our self-contained apartments at Bridgewater Terraces. Not only are our apartments affordable, but they are also conveniently located in Kangaroo Point – just 1km from Brisbane CBD.
So, plan your Brisbane holiday and give us a call on 07 3435 5216 to book your accommodation with us!