Brisbane's Southbank is one of the attractions that you cannot simply afford to miss when you're in Brisbane. This is popular not just to tourists but also to locals. It is a great place to unwind, enjoy free activities, shop, and dine. Here, you'll find a beautiful man made beach, numerous restaurants, gardens, amazing walkways, museums and playgrounds. There are also picnic areas that are usually flocked by locals during weekends. Some of the best things to do here are the following:
Ride the Wheel of Brisbane and enjoy 360 degree, unobstructed view of the whole city from Southbank.
Cool down with a dip in the man-made beach with friends and family – this is the Australia's only beach in the middle of a city.
Dine in at different atmospheric seafood restaurants that are close to the beach.
Visit museums for both kids and adults for free.
Shop at the numerous retail stores throughout Southbank
Visit http://www.visitsouthbank.com.au/ for more information
Most people say that you haven't really been to Brisbane until you've experienced Brisbane's Southbank. In fact, with so many activities to do there, you can go back more than twice during your visit to Brisbane. To make this easier and convenient for you, book an accommodation that is close to the city.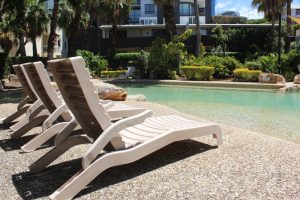 Bridgewater Terraces is just 1 km away from the city. From our apartments, it's just a 15 minute ferry ride to get to Brisbane Southbank. Check out our Brisbane apartments that are perfect for families, couples, business travellers, and group of friends.
Related Topics