Travel trends keep changing from time to time. If you're a globetrotter or one with the travel bug, then I bet you're closely following the latest travel trends.
As the manager of Bridgewater Terraces, I too keep myself updated with the latest trends in travel. And, I couldn't be happier that pared back accommodation in Brisbane is one of the hottest travel trends right now. This is exactly what we offer at our self-contained holiday apartments.
So, what exactly is pared back accommodation? Today, we'll look at just this. So, continue reading this post as I explain to you what pared back accommodation really means. Hopefully, when you're done reading, you'll realise just why this form of accommodation is so popular in Brisbane.
What is pared back accommodation?
Most forms of accommodation in Brisbane are fussy, formal and largely overblown. While this type of accommodation was once considered to by luxurious, it is not so today. As a matter of fact, more and more people are moving away from old school opulence and are opting for pared back accommodation.
Pared back accommodation focuses on the mantra of 'less is more'. This type of accommodation lets go of luxurious elements and concentrates on soothing and pampering the senses instead. Simplifying and decluttering the interiors is what pared back accommodation is all about. However, this does not mean that pared back accommodation doesn't offer comfort. In fact, comfort is a prime aspect of this form of accommodation.
Another aspect of this form of accommodation is spaciousness. Pared back accommodation is usually very spacious and comfortable and excludes unnecessary elements. There are no frills and there is no fuss associated with pared back accommodation.
Pared back accommodation is the new definition of contemporary chic. It may not be as luxurious as what some people imagine, but it definitely offers everything that holidaymakers require. And, this is also what makes pared back accommodation much more affordable than other forms of accommodation. No wonder this type of accommodation is gaining popularity rapidly in Brisbane as also other parts of the world!
Pared back accommodation in Brisbane
When it comes to finding pared back accommodation in Brisbane, Bridgewater Terraces is your best option. We offer 1, 2 and 3-bedroom holiday apartments in Kangaroo Point that are self-contained and affordable.
In line with pared back accommodation, our apartments do not include unnecessary elements. Rather, our apartments are designed to offer just what you need from your accommodation. This includes spacious lounges and bedrooms, sprawling balconies, fully equipped kitchens and laundry facilities.
Regardless of whether you're a solo traveller or you're travelling with a group, our accommodation offers enough space for everyone. There's no way you'll fall short on space when you stay in one of our apartments.
We also offer the best in comfort. Each apartment includes comfortable beds, lush textiles, decadent bathrooms, free Wi-Fi and various entertainment facilities. Moreover, you can also enjoy a range of resort facilities. While we don't offer everything that a hotel does, we do offer everything you need for an enjoyable and comfortable stay. Plus, you'll also save on your accommodation costs. Our holiday apartments are far cheaper than most hotels and other alternative forms of accommodation in the area.
So, if you're looking for cost-effective, yet spacious and comfortable accommodation in Brisbane, look no further than Bridgewater Terraces. You can book direct or book through booking.com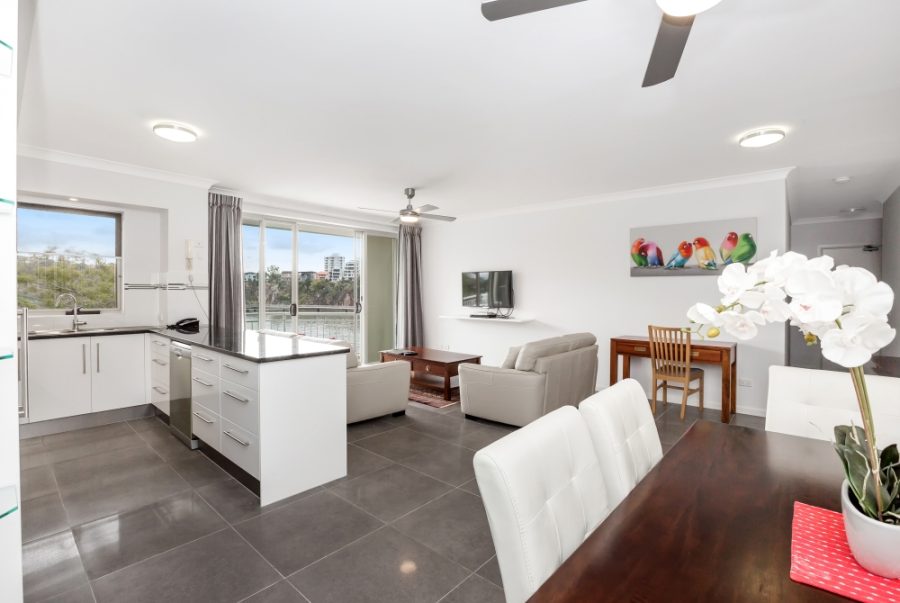 Conclusion:
One of the biggest travel trends on right now is pared back accommodation in Brisbane. Pared back accommodation is nothing but simple, spacious and comfortable accommodation without any frills. This form of accommodation only includes elements that are absolutely necessary to holidaymakers.
And, for no-fuss accommodation in Brisbane that oozes comfort and space, choose our holiday apartments at Bridgewater Terraces. Our pared back accommodation offers you everything that you need on holiday and you won't bust the bank by choosing us.
So, take a look at our holiday apartments, plan your travel dates and get in touch with us to book your holiday accommodation. Call us today!