A lot of travellers who are visiting Brisbane for the first time think that they only have one option when it comes to the location of their accommodation – Brisbane CBD.
If you're in town looking for entertainment, clubs and some of the best restaurants, then Brisbane CBD is a great choice when it comes to where book your accommodation. The CBD also boasts the finest hotels and apartments Brisbane has to offer, the Treasury Casino, the Botanical Gardens and of course the Queen Street Mall so you'll certainly never run out of things to see and activities to do in this great city of ours.
In this article, I will provide you with useful tips on how you can easily book accommodation in Brisbane apartments and Hotels.
Book in advance. This is a must, particularly if you're going during the high season. June to November is typically when Brisbane receives the biggest number of tourists. The high season is best for whale-watching and also when festivals including Queensland Music Festival and Brisbane Fine Wine Festival are held so there's plenty to do on your visit. My suggestion is to book your apartment 2-3 months before your stay.
Use the Internet. For your convenience and to save time, I'd suggest that you use the Internet when you're searching for the best accommodation in Brisbane CBD. Using Google, simply search for the term "Brisbane apartments in the CBD" and you'll surely get hundreds of websites on the search page results (replace apartments with hotels if you prefer to stay in a hotel). List down the ones that you think will compliment your budget and your preference. For example, if you'd like to stay very near a particular establishment, make sure you book a Brisbane apartment that is in walking distance so you can save time and money on transport.
Read reviews. Make use of TripAdvisor and read the reviews written by previous guests. Through this, you'll know exactly what to expect. I was once considering booking a holiday package for weekend away in Sydney, but then I read a review from a TripAdvisor member and it made me think again. Follow my footsteps and avoid committing costly mistakes by simply listening to other guests who have already stayed in the hotel that you're seriously considering.
Consider the amenities and facilities. You'll want your holiday to be as convenient and enjoyable as possible. When looking at the available Brisbane apartments, check out amenities and facilities that you consider non-negotiable. Is there a WiFi connection, pool, and spa? Do they offer transfer services to and from the airport? Do they have a help desk that can help you book your tours?
So there you have it, when it comes to booking accommodation in the CBD you're best to book ahead and use the internet. Before you confirm your booking, check other guest's reviews and consider the amenities and facilities on offer to ensure they have everything you need for an enjoyable holiday.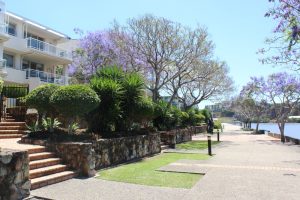 If you've already done your research, you'll know accommodation in Brisbane CBD can be extremely expensive. If you're cash-strapped or if you simply want to stretch your dollar further, consider booking Brisbane apartment accommodation here at Bridgewater Terraces. Located at Kangaroo Point, we are just 1 km away from Brisbane CBD. In addition to our great location, we also offer amazing rates, which start at just $140 per night for one-bedroom apartment.
Related Topics