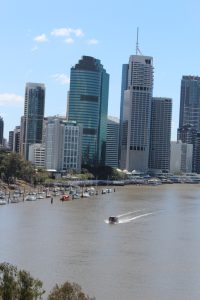 It is common knowledge that Brisbane is one of the most popular holiday destinations in all of Australia. Therefore, it's no wonder why Brisbane accommodation is always in such high demand. Due to its relaxed atmosphere and stunning natural sceneries, Brisbane attracts people who are looking to spend time away from their busy schedule and demanding jobs. Here, you can have great time exploring natural wonders such as breath-taking rivers, cliffs, waterfalls, and rainforests. Being the centre of development, you can also expect to see amazing man-made structures that will make your stay more worthwhile.
Brisbane attracts not just international tourists but domestic visitors as well. These are visitors from different regions who chose to make Brisbane their holiday destination. Based on a report released by Travel Queensland, there were 5,043,000 domestic visitors chose to visit Brisbane in the year ending 2013. This number is the reason why Brisbane accommodation bookings increased by as much as 4%. The report confirms that these visitors spent an average of 3 nights in Brisbane. This suggests that Australians are regaining confidence in terms of booking accommodation and travels.
The same report confirmed that out of the 5 million people who went to Brisbane last year, 1,444,000 came for a holiday while 2,132,000 were visiting friends and family members. The remaining 1,120,000 individual were here for business. While Brisbane accommodation booking increased, the same cannot be said for day trip visitors who declined by 4.8% to 165,821,000.
A huge percentage of tourists were from Regional QLD (6,350,000) followed by Sydney (1,992,000), Regional NSW (1,769,000), Brisbane (1,483,000) and Melbourne (1,173,000).
Why visit Brisbane
Some of my friends and even relatives from both inside and outside of Australia were asking me why should they check out Brisbane. Are you wondering the same thing? Then, let me tell you what makes Brisbane a great holiday destination for both domestic and international tourists. Although Brisbane is widely known and is extremely popular because of its natural wonders, it is also visited for being the Las Vegas of Australia. In Brisbane, you'll find numerous art galleries, concert halls, auditoriums, and museums. The list of things to see is also endless. This includes Brisbane City Hall, Brisbane City Botanic Gardens, Early Street historical village, etc. Of course, don't forget the region's natural wonders, which include mesmerising waterfalls, rainforests, and a number of UNESCO world heritage sites.
Coming to Brisbane? Then book your Brisbane accommodation here at Bridgewater Terraces
Whether you're going to Brisbane for business or for leisure, you deserve top-notch Brisbane accommodation that can make your stay worthwhile. Here at Bridgewater Terraces, we offer fully furnished one, two, and three-bedroom apartments built in a low-rise style complex that is surrounded by lavish gardens leading towards the pool area. We guarantee high quality Brisbane accommodation and competitive prices. For questions or for bookings, please call us at +61 7 3435 5216 or simply provide your details through this form and we'll get back to you ASAP.
Related Topics