Staying in Brisbane apartments proves to be a far smarter choice than staying at hotels
Brisbane is a popular tourist destination and as such, it should come as no surprise that the city is filled with a large number of accommodation options. While most holidaymakers think of hotels when considering accommodation, there are many other options, including Brisbane apartments, which are just as good, if not better than hotels.
Being the manager of Bridgewater Terraces, which are Brisbane apartments located in Kangaroo Point, I'd like to get the message out to holidaymakers that holiday apartments are in many ways, better than hotels. Hotels are usually more expensive, smaller and offer lesser privacy than holiday apartments just to name a few and in this article I will brief you through some of the points why you should choose Brisbane apartments over hotels for your next holiday.
Less expensive
Probably the biggest reason to choose Brisbane apartments over hotels is that they are significantly cheaper. Hotels in Brisbane factor in the costs of amenities, daily housekeeping costs and their location in their room rate. Brisbane apartments on the other hand, do not charge for daily housekeeping and they are mostly located just outside the central hub of the city. While apartments provide amenities on par with those of hotels, the costs of renting apartments, comes out to be much cheaper than hotels.
At Bridgewater Terraces, we provide quality apartments which can be yours for as little as $180 per night, which is much less than a comparable hotel in Brisbane's CBD.
Enjoy Extra Space
Most hotels typically have the same offering – a room with an attached bathroom, unless you're shelling out thousands for an expensive suite. Brisbane apartments on the other hand, offer much larger space for you to live in. Apartments usually have a separate bedroom, a fully equipped kitchen, an entertainment cum living area and modern bathrooms. By choosing to stay in an apartment over a hotel, you will definitely enjoy the extra space that is being provided.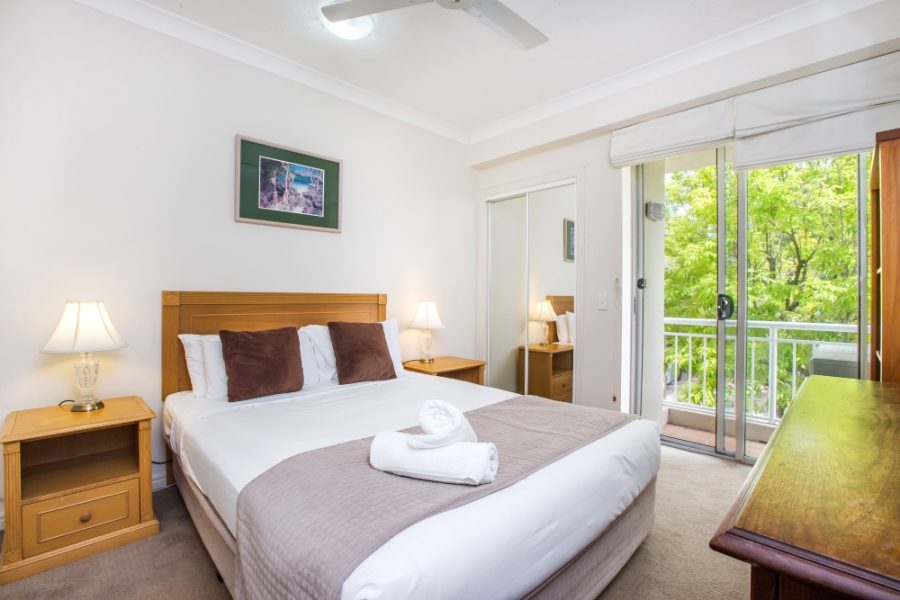 Here, at Bridgewater Terraces, we offer spacious 1 bedroom, 2 bedroom and 3 bedroom serviced apartments, which come fully furnished with modern amenities.
Allows you to experience the city at a slower pace
Another great benefit of stay in an apartment is that it allows you to experience the city at a much slower pace and is perfect if you're looking to escape the fast paced city. Most hotels are concentrated around the CBD and living in the central hub of the city can be too overwhelming for some. Brisbane apartments, on the other hand, such as ours at Bridgewater Terraces, are conveniently located just outside the CBD. While you get a chance to relax and enjoy your holiday at a more leisurely pace by living at our apartments, you can also choose to pop into the busy CBD if the need be.
Allows you to cook your own meals
Staying at a hotel means that you will need to eat out at restaurants. Not only does this prove to be expensive, but it also means that you will be giving up on quality, nutritious food for the extravagant meals that restaurants have to offer. However, by staying in Brisbane apartments, you get a fully equipped kitchen, so you can choose to cook your own meals and save on costs.
Perfect for long stays
While hotels are best suited for overnight or weekend stays, apartments are perfect if you're looking at staying in Brisbane for more than 3 nights. For such longer trips, apartments offer you a chance to settle down at a more relaxed pace and make you feel at home.
These are some of the various benefits of staying at Brisbane apartments over hotels. I hope that with these points, you will be convinced that apartments prove to be a far smarter choice than hotels. Here, at Bridgewater Terraces, we always have guests raving about how much they enjoy staying with in our holiday apartments over any hotel in the city.
Conclusion:
Staying in Brisbane apartments offers several benefits over hotels, especially if you're looking for a longer stay. Brisbane apartments are cheaper, offer more space, allow you to experience the city at a slower pace and allow you to cook your own meals. All these factors make it well worth considering apartments over hotels.
If you would like to consider high quality serviced apartments for your Brisbane visit, then get in touch with us at Bridgewater Terraces. We have a range of quality holiday apartments that will make you want to forget booking hotels for good!
Related Topics