Every year, thousands of tourists from all points of the globe consider visiting Brisbane for hundreds of different reasons. If you're one of them, you better start looking for accommodation in Brisbane now as they can easily sell like hotcakes during peak season.
Brisbane, Queensland capital and most populous city, is rich in culture, history, heritage, and it boasts stunning landscape. Being Queensland's cultural and entertainment capital, it is dubbed as the Las Vegas of Australia. Here, you can find endless strip of shopping and dining districts, great natural sceneries, relaxing bodies of water, and spectacular man-made structures. Add Brisbane's almost perfect weather and any international tourist will agree that Brisbane is indeed a piece of heaven on earth.
Brisbane International Overnight accommodation bookings on the rise
Due to the fact that Brisbane makes a perfect holiday destination, it did not surprise me to see reports saying that the booking rates for accommodation in Brisbane have substantially increased. According to Travel Queensland, the number of international visitors who made Brisbane their holiday destination last year rose by 5.5% to 981,000. These visitors, who spent a total of $1,574.3 million, were mostly from China and United Kingdom. The 5.5% growth in international travel is slightly higher compared to the state growth average of 4.4%. The strongest growth was observed in international holiday travel, which jumped by 9.9%.
The report also confirmed that international visitors spent a total of 20,530,000 nights in Brisbane accommodation with an average of 20.9 nights per visitor. This number represents 11.5% increase compared to previous year.
Top international source markets include New Zealand, China, United Kingdom, USA, Germany, Singapore, Taiwan, Korea, Scandinavia, and Hong Kong. Among them, it's the United Kingdom that registered huge growth as 32.9% more visitors went to Brisbane last year.
Why International tourists visit Brisbane
There are one hundred and one reasons why international tourists continue to make Brisbane their holiday destination. People go here to relax in the natural paradise of Noosa which is only 1 hour drive from Brisbane and boast lush hinterland, pristine beaches, and national park. Here, visitors can just spend their days doing water sports and getting their tan while leaving behind the stress that city life offers them. Aside from that, Brisbane is rich in culture and heritage. The city boasts some serious cultural credentials as it hosts a huge number of world-class exhibitions throughout the year. Also, it is the home to numerous theatres, galleries, art spaces, and world-class museums.
Looking for the best accommodation in Brisbane? Then, make Bridgewater Terraces your accommodation partner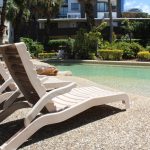 If you've decided to make Brisbane your holiday destination this year, make sure to make reservations as soon as possible as accommodation in Brisbane sell like hotcakes during peak seasons. Here at Bridgewater Terraces, we offer high quality yet affordable Brisbane accommodation in  apartments that can accommodate couples, small group, or huge families. Just choose from our luxurious one, two, or three bedroom Brisbane apartment accommodation. For enquires or reservations, please send us an email or call us at +61 7 3435 5216 and we'll be more than happy to assist you.
Related Topics