2012-2013 was a great period for Brisbane tourism. Due to improving economy, more and more people can afford to travel and thankfully, millions of them chose Brisbane as their holiday destination last year. It is for this reason that hotels in Brisbane saw an increase in their bookings – as an apartment operator, this is certainly is music to my ears.
However, although the number of visitors who came to Brisbane for holiday and leisure increased, the number of business travellers has noticeable declined. According to Travel Queensland's official figures, there were only 1,120,000 domestic business travellers last year. This is a 3.1% drop compared to data gathered the previous year. Because of this, hotels in Brisbane experienced drop when it came to business travellers. These people spent a total of 2,604,000 nights in the year ending September 2013. This is less than 11.3% compared in 2012. Also, the average length of stay dropped by 0.2% to 2.3 nights.
The same is observed when it comes to international visitors to Brisbane. Although holiday visitors increased by 9.9%, business visitors dropped by 9.3% to just 125,000. These visitors spent a total of 896,000 nights in Brisbane Hotels, which represent a stiff 11.9% drop. The length of stay also dropped by 0.2, down to 7.2 nights.
Brisbane still enjoys tourism boost
Having stated this, the number of business travellers shouldn't be taken as an indication that Brisbane tourism is becoming gloomy. In fact, as mentioned, 2012-2013 is a great year for Brisbane and its economy. According to the same report, Brisbane welcomed 981,000 international visitors, which represents a 5.5% increase when compared last year. These visitors spent a total of $1,574.3 million. Also, this figure is slightly higher when compared to the state growth average of 4.4%.
Domestic travellers also increased and Brisbane welcomed 5,043,000 domestic visitors for the same period. This is a 4% increase and helped Brisbane economy as these visitors spent an average of 3 nights in Brisbane hotels or with friends and family. This shows that Australians were regaining confidence in terms of travel bookings after it was showed that the number of day trips have dropped while hotel bookings increased.
Hotels in Brisbane perfect for business travellers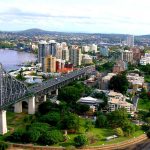 If you're going to Brisbane this year for business purposes, I highly recommend booking our luxurious yet affordable Kangaroo Point serviced apartment. Aside from one, two, and three bedroom apartments that are ideal for couples and families, we have corporate accommodation that is perfect for business travellers. Conveniently located Kangaroo Point, we are just 7 minute ferry ride away from the CBC.
Whether you're going here to meet clients or attend conference at the Exhibition Centre, our corporate accommodation can be your home away from home. Our apartments are equipped with direct dial telephone, secure underground parking, and gymnasium. If you're staying for minimum of seven days, we'll also throw in free weekly service. For your relaxation, we provide you with stunning surroundings and lavish gardens around your accommodation. For questions or for bookings, please call us at +61 7 3435 5216 or simply provide your details via our contact form and we'll get back to you ASAP.
Related Topics