There is no doubt that the best place to stay in when you're in Brisbane is in CBD where all the best shops, attractions and major businesses can be found – it's also generally where all the best events are held.
When selecting a hotel in Brisbane CBD, you will need to consider your budget, the facilities and amenities, the size of the hotel rooms, and the reputation of the hotel itself. There are several websites that you can use that compare the services, prices, location, and amenities of each Brisbane CBD hotel so we recommend you look around and do your homework. Websites such as booking.com and expedia.com are great tools – both list accommodation options clearly so selecting a hotel in Brisbane CBD is a quick and easy process.
A more affordable option than hotels in Brisbane CBD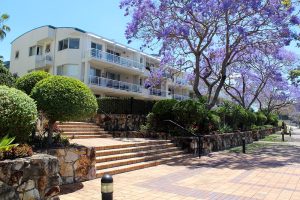 If you've already started searching for a hotel in Brisbane's CBD, you would have noticed that they can get very pricey, especially if you're booking in Mid or High Season! If you want a cheaper alternative to a CBD hotel, we recommend you check out Bridgewater Terraces apartments.
Just 1 km from the CBD, and a 7-minute city ferry ride from your apartment, Bridgewater Terraces is both close and affordable.
For much lower daily and weekly rates, you'll get to enjoy great facilities, which include a gym, spa, outdoor swimming pool, and covered parking space. All our apartments feature well-appointed interiors giving you all the comforts of home.
Booking Brisbane accommodation close to the CBD is relatively easy here at Bridgewater Terraces. Just visit click "book our stay", then, choose the apartment that you prefer (we have 1, 2, and 3 bedroom apartments) and pay using your credit card. We offer a full description of each of the apartment so you'll know what to expect even before you get here.
Related Topics