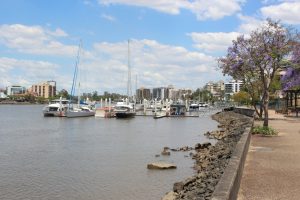 Have you dreamed of waking up to breath-taking views of the Brisbane River? Morning walks along the walking and bike path that edge this great city? Dining riverside at some of the best restaurants Brisbane has to offer? Well this doesn't have to be a dream! To make this dream a reality, the first step you need to take is to book a riverview hotel in Brisbane, but how do you know what riverview hotel is best for you. Well let me give you a few things to consider.
First, make sure that when you booking a riverview hotel, you room actually offers river views. In most cases, river view rooms will cost more compared to those rooms that are facing the pool or the garden for example. Get confirmation before you pay the deposit.
Next, be sure to check the amenities. There are certain amenities that each traveller is looking for when they're booking accommodation. Depending on your need, this could be swimming pool for your kids, spa for you and your significant other, free WiFi connection, etc. List down those that you absolutely cannot do without and ensure that the hotel has them.
Then, check the rates. Of course, you will need to make sure that you can afford to book a riverview hotel in Brisbane. If not, consider checking out other providers that are offering the same type of accommodation. Sometimes, doing comparison can help you save enormous amount of money. Also, booking months before your arrival date and during low season can help you get discounts.
Lastly, enquire about the actual size of the room. If you're travelling with your family, it is important to enquire about the size of the hotel room you're wanting to book. You'll want to make sure there is enough space for everyone to be comfortable. If you're travelling with kids, make sure to check that the riverview hotel offers at least a two bedroom apartment for your comfort and privacy. You certainly won't want a studio hotel suit if you're travelling with the kids.
These tips should give you a pretty good idea of what to look out for to ensure you secure the right riverview hotel for you and your travelling party. Just be sure to keep these in mind when you go to book and you should be fine.
When it comes to amazing value for money, and amazing views of the Brisbane River, rather than booking at Riverview hotel in Brisbane, consider booking a Riverview apartment such as the ones we offer here at Bridgewater Terraces. We offer one bedroom, two bedroom, and three bedroom apartments that are ideal for couples and travelling families. Our apartments are fully contained, beautifully presented, and extremely affordable. In fact, our rate for one bedroom apartments start at just $140 per night. Kangaroo Point, our location, is across the eastern part of the Brisbane River and is complimented by attractive riverside location. By staying with us during your Brisbane visit, you'll wake up to the stunning views of Brisbane River that can truly make your holiday more relaxing.
Related Topics