If there is absolutely one thing that you shouldn't miss when in Brisbane it would be to experience the city via a river cruise. A Brisbane river cruise is one of the most memorable sightseeing experiences you'll have whilst in Brisbane. Sit back and relax as you watch Brisbane's highlights drift by. Depending on your preferences, you can take advantage of those cruises that offer full narrative and guided tour, cruises that offer lunch buffet, or the romantic Brisbane dinner cruise.
To make your Brisbane holiday all the more special, book accommodation that offers stunning views of the Brisbane River to really appreciate the beauty of this spectacular city. Wouldn't it be nice to wake up to this view every morning?
Bridgewater Terraces apartments offer exactly this when you book a riverview apartment. Our affordable Brisbane apartments offer views of the Brisbane River and are very close to CBD (just 1km away) – only 7 minute trip via the Brisbane Ferry / City Cat.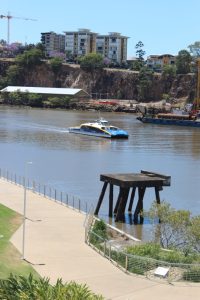 All our apartments are spacious and luxurious. In addition, we offer you with all the standard amenities including a new gymnasium, a spa, and an outdoor swimming pool. Depending on the number of people coming with you, you can choose between our 1, 2, or 3 bedroom apartments that are all equipped with full kitchen and laundry facilities.
Enjoy not only a Brisbane river cruise, but wake up with a great view of the tranquil Brisbane River every morning by simply booking a riverview apartment with Bridgewater Terraces. Call us now on +61 7 3435 5216 and together, we'll make sure that your Brisbane holiday is something you won't soon forget.
Related Topics