Brisbane is a very popular tourist destination so it's no surprise that tourists from all around the world choose to spend their holiday here, in the capital of Queensland. When traveling, one of the most important things to budget and arrange is the accommodation. While there are many options to choose from, serviced apartments in Brisbane are one of the most attractive options and their popularity among tourists is continually increasing. If you are planning to visit the city anytime soon, you certainly should consider them for your accommodation choice.
In this article, I will explain the concept of serviced apartments and their benefits, and provide some tips on how to find serviced apartments in Brisbane.
Usually when planning a holiday in Brisbane, or anywhere around the world for that matter, you're first consideration will be to stay in a hotel, but there is an alternative you should certainly take into account; serviced apartments.
Serviced apartments are fully furnished apartments that provide everything you'll need during your stay. You will feel just like you're at home because these apartments provide comfort and privacy. Many people make the mistake of thinking that serviced apartments are available for short-term accommodation, but you can book them for as briefly as a couple of days, which makes them the perfect solution when planning a holiday in Brisbane.
The best thing about serviced apartments in Brisbane is the fact you will have all the necessary amenities at your disposal, including a kitchen, washer and dryer, high-speed internet, and television. Even if you are far away from home, you won't feel that way. This is a more flexible option, especially when it comes to food. With a fully equipped kitchen, where all the appliances are included, you can prepare the meal you want, and when you want.
The list of benefits is pretty long. Let's start with the obvious. When staying in a hotel, there will be a single room and bathroom only. On the other hand, a serviced apartment provides more space; it includes a living room, one bedroom or more, depending on your needs, a kitchen, a bathroom and laundry facilities. These apartments are excellent for group or family travel. You can have privacy, but you can also spend some quality time together in the living room. Price is always important, and you can be sure that serviced apartments in Brisbane are a lot cheaper option than staying in a hotel.
For serviced apartments in Brisbane, you're best bet is to find one online by browsing the Internet. You will find many interesting options, but before you make your final decision, compare the options you have, and pay attention to location and price. Check if the apartment has all the essentials, and take everything into the account, such as number of bedrooms, facilities included, the view, and anything else you consider as important. With just a bit of effort, you can find an apartment that meets your desires, especially when it comes to location, quality, and price, and when you do, you can book it online, the same as booking a room in a hotel.
Bridgewater Terraces is the ideal solution for serviced apartments in Brisbane. Located on the beautiful Brisbane River, and only a couple of minutes away from Brisbane CBD, you can spend your holiday in a homey atmosphere. We offer 1, 2 and 3 bedroom apartments with a private balcony and a breathtaking view of the gardens or river. All the apartments are fully furnished, with laundry and kitchen included.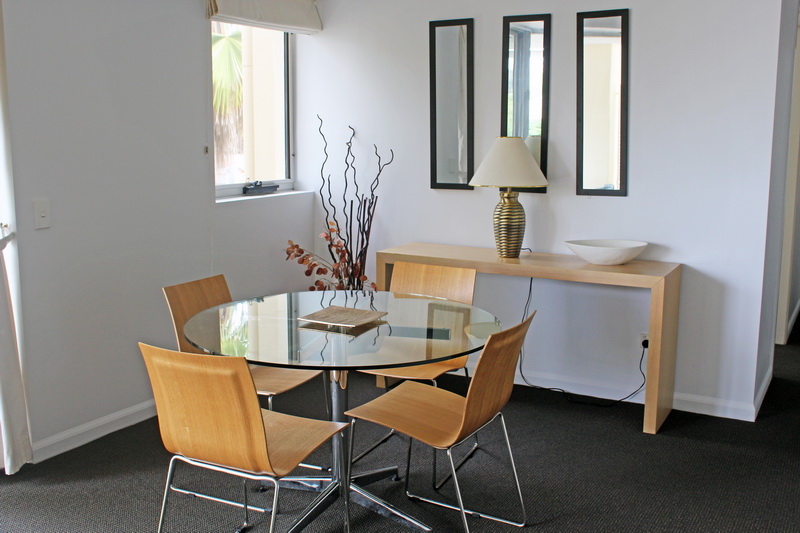 Appliances such as a washing machine, dishwasher, microwave, and television are available in every apartment. With a modern, open-plan design, you will have more than enough space. Surrounded by tropical landscape, a relaxing environment is ensured. For outdoor fun and enjoyment, there are facilities such as a heated spa, swimming pool, gym, sauna, and BBQ area. With affordable prices starting at only $155, Bridgewater Terraces certainly is the perfect accommodation choice.
Conclusion
Serviced apartments in Brisbane are an outstanding option for your holiday. In a fully furnished apartment, you won't feel like you are far away from home, and this solution is a lot cheaper than a hotel. It also provides more space, and privacy, and you will have all that you need, including laundry, kitchen, etc. You can easily find serviced apartments online, and you can book your stay with ease.
To book a serviced apartment in Brisbane at Bridgewater Terraces, feel free to contact us or search and book your stay via our secure online booking facilities.
Related Topics