Does your idea of a relaxing holiday include getting away from the noise of everyday life and enjoying unmatched sceneries while staying in a riverside hotel in Brisbane? Then, you should seriously consider looking for accommodation that is right smack bang of the beautiful Brisbane River.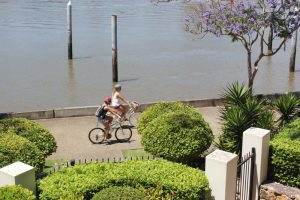 While booking riverside hotel in Brisbane sounds like a great idea, give consideration to booking a riverside apartment along with your riverside hotel if you're looking for better value for money. Unlike riverside hotels in Brisbane, you can secure a two or three bedroom riverside apartment for a lot less than a riverside hotel in Brisbane. In fact, here at Bridgewater Terraces, our rates start at just $140 per night. For this rate, you just don't get to enjoy great riverside accommodation but you'll also be able to experience great facilities and amenities including pool, spa, and gymnasium.
All our apartments are self-contained and also come with fully equipped kitchen and laundry facilities. So if you'd like to save money on expensive restaurant bills, you can go ahead and serve home-cooked meals.
Bridgewater Terraces is conveniently located on the east portion of the Brisbane River at Kangaroo Point which gives off beautiful views that see our guests returning year after year.
Staying at Bridgewater Terraces means you're just 1 kilometre away from Brisbane CBD, which no doubt you'll want to visit. We're also very close to Kangaroo Point Cliffs, which are famous picnic grounds where you can also experience abseiling adventure and rock climbing. Another benefit of our riverside location is that we're very close to Eagle Street Pier. In fact, it's just a 7-minute ferry ride from Holman St. Kangaroo Point. This is an iconic dining district, which is very popular in Brisbane. Aside from the fact that it offers delectable dishes, it also offers the beautiful Brisbane River as a background while you dine. Going here will surely enrich your experience.
The beauty of choosing Bridgewater Terraces as your riverside accommodation is that you're still only a stones thrown away for the city centre, but further enough away to forget all about the noisy, fast paced city; and this is important if you're really looking forward to having relaxing holiday!
Looking for a riverside hotel in Brisbane? Consider Bridgewater Terraces
There is nothing more relaxing than waking up in Brisbane to beautiful river views. This is something that we offer here at Bridgewater Terraces. If you're ready to make your dream come true, book any of our apartments now. We offer one-two, and three bedroom apartments that are perfect for travelling families, couples, and even business travellers. Aside from affordable rates, we also offer resort-style amenities and great facilities to ensure that your stay will be enjoyable and relaxing.
Booking with us means waking up and being surrounded by tranquil gardens and unmatched river views that will instantly take your breath away.
Related Topics