I've been managing Bridgewater Terraces for many years now and part of my job is to fully understand Brisbane's tourism industry. Although I advocate staying at Kangaroo Point whenever travellers choose to holiday in Brisbane, I am aware that booking accommodation in Brisbane CBD is one of, if not the most popular choice for visitors. If you're wondering why, this article aims to provide you with all the answers you need to know.
The main reason why a significant number of visitors choose accommodation in Brisbane CBD is because it puts you in the very heart of the city. This means that you'll be walking distance to most of the city's most iconic attractions including museums, parklands, shopping and dining district, cultural centres, and many more.
Some of the must-see places and must-do activities within Brisbane CBD are the following:
City Botanic Gardens – Found in Alice Street, this is Brisbane's oldest park and is definitely one of the most relaxing and soothing places you'll find here. This lush green haven attracts not just travellers but locals as well who make this place their picnic spot during weekends. Here you can find ancient trees, exotic species, rainforest glades, and Brisbane River's northern banks. Take advantage of free guided walks offered by volunteer guides for a truly memorable experience.
Queen Street Mall – This is another great attraction that is walking distance if you book your accommodation in Brisbane CBD. Staying close to Queen Street Mall provides easy access to a vibrant shopping and lifestyle precinct where you can find a mix of local, national, and international flagship stores as well as world-class labels. With more than 700 retailers, I am sure that you'll find more than a few souvenirs to take home with you. Queen Street Mall is also home to great dining precincts serving anything from modern Australian cuisine to Thai food, to American dishes, and everything in between.
King George Square – If you're a music fan, head to King George Square, which regularly hosts concerts and theatre events. In between shows, it's a relaxing location enjoyed by both locals and travellers. Featuring casual dining venues, it's the perfect place to cap the night with local coffee or great tasting wine.
Check out the restaurants and eateries in Brisbane CBD!
Of course, dining out is almost always part of travelling and it really does play a role when people choose to book accommodation in Brisbane CBD.
If you're like me and take food very seriously, you'll want to know the best places in Brisbane where you can be treated with delectable and sumptuous meal. If you're looking for something that is inexpensive, down-to-earth, and surprisingly good food, head to Little Asia precinct that is always packed with locals particularly students. Here, they serve Japanese, Korean, and other Asian dishes. You can also find Italian eateries and hole-in-the-wall that offers authentic Australian dishes.
Meanwhile, my recommendations for lunches includeThe Bun Mobile & Brew. However, if you're looking for high-range restaurants, check out the ones in Riverside precinct around Botanic Gardens. Must try are Malt Dining and The Euro off Spence Lane. For a comprehensive list of the most popular restaurants and cafes in Brisbane CBD visit UrbanSpoon.
Arts and Entertainment in Brisbane CBD
As with the attractions and food and dining options, of course the arts and entertainment on offer is just another reason why booking accommodation in Brisbane CBD is so popular. If you're into the arts and entertainment scene, I suggest you take advantage of the following events;
Abbey Medieval Festival – Believe it or not, the numbers of visitors in Brisbane spike from the last week of June to the second week of July because of this festival. This celebration is where patrons are served with medieval feast while being entertained with theatre, music, and dance. This is something that you shouldn't miss if you're serious about learning our culture and heritage. On the last day of the festival, families are invited to Kids' Medieval Fun Day where children from 3 to 12 years old take part in range of activities and workshop.
Anzac Square War Memorial – This is one of Australia's pride and joy. Being a heritage-listed town square, it is a state memorial dedicated to those who have participated in overseas armed service. Featuring the Shrine of Remembrance with the Eternal Flame, this is where you can find war memorials, mosaic, unit plaques, and many more.
Albion Comedy Club & Restaurant – if you think you could use a good laugh, then head to this club where you can find all-professional line up that includes not just local but international comedians. The food and customer service are highly recommended.
Conclusion: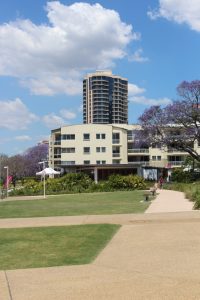 There is no doubt that booking accommodation in Brisbane CBD means convenience and comfort because you'll literally be a stone throw away from all the major attractions and landmarks. However, there are some drawbacks. First, booking accommodation here can be quite expensive and you can expect to pay at least $275 for small hotel room that sleeps just 2 people.
If $275 per night is above your budget, or you're looking for better value for money I suggest rather than booking accommodation in Brisbane's CBD, how about you consider Bridgewater Terraces, in Kangaroo Point. We are just 7 minutes away from Brisbane CBD and 15 minutes away from the famous South Bank. We offer spacious serviced apartments that are ideal for couples, travelling families, and business travellers. Our rates start at just $115 for a 1 bedroom apartment which is clearly better values than the accommodation available in the CBD.
For questions, please email us through our contact page or call us directly at +61 7 3435 5216 and one of our friendly customer service representatives will be more than happy to assist you.
Related Topics