While everyone has heard of Brisbane CBD, Southbank & Fortitude Valley, one not-as-popular but just as appealing a destination is Kangaroo Point. It is one of the most exciting, and certainly most beautiful suburbs in Brisbane, and it is known for its natural beauty, stunning views of the city and Brisbane River, and many landmarks. It offers great food, dining, a wide range of activities and attractions to experience on your holiday. If you are visiting Brisbane, there is no better location to stay, than this lovely suburb.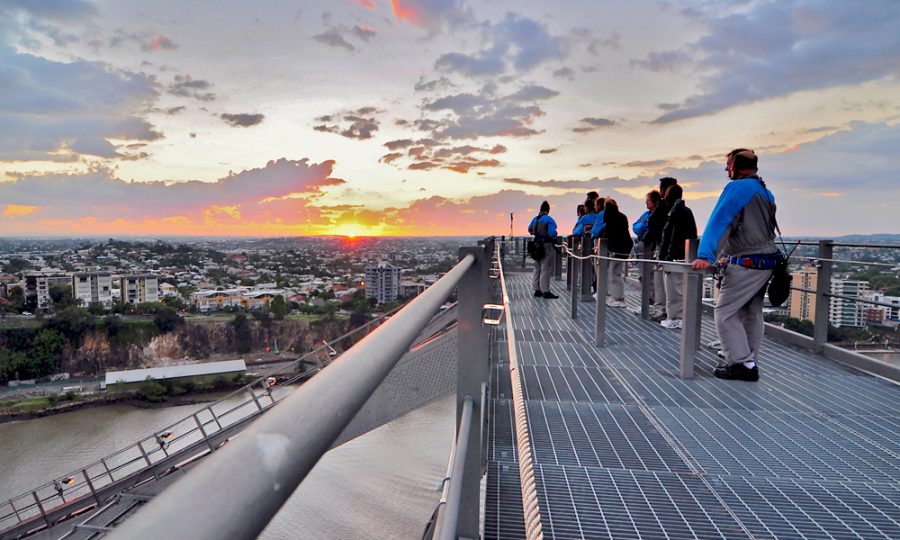 Given that Bridgewater Terraces is located on the beautiful banks of the Brisbane River at Kangaroo Point, It puts me in the perfect position to sell you this relaxing riverside destination in the hope that you will want to book Kangaroo Point accommodation with us on your next Brisbane visit.
If you are eager to see Brisbane at its best, as I am sure you are, there is no better place than Kangaroo Point for such an experience. The suburb offers many great things, and in this part of town, something's always going on, so you can be sure you will have countless adventures during your stay.
Kangaroo Point Attractions
When it comes to attractions, two of the most popular ones are the Kangaroo Point Cliffs, and astonishing Story Bridge. The Kangaroo Point Cliffs are the perfect location for many different activities, including abseiling, and rock climbing, and if you are up for a picnic, bring a blanket and a basket full of treats, and you will have a wonderful time, because you will have a picnic with a view. During the night, the cliffs are lighted, so you can schedule your climbing adventure when the sun goes down. The Story Bridge, another famous landmark, was opened for operation back in 1940. The bridge connects the peninsula on which the suburb is located, to Brisbane CBD. There are organised climbs of the bridge providing breathtaking views of the Brisbane River, central business district and surrounding suburbs. These two landmarks are always hot, which is not surprising why so many tourists looking for Kangaroo Point accommodation.
Kangaroo Point Restaurants
There are a many excellent restaurants in Kangaroo Point where you can enjoy the perfect meal. You can try something local, because there is a wide range of Australian specialties, or you can go with something international. The choice is yours. If you want to grab a bite on the way, while exploring the suburb, there are many fast food shops around. There are many cafes, bistros and pubs, and you will never be short when choosing a place to eat. The nightlife offer is extremely rich, and if you want to enjoy some live music, there is no better place than the Brisbane Jazz Club. Almost every night, some of the greatest jazz musicians are there entertaining the visitors. Kangaroo Point has many great bars as well.
Kangaroo Point Accommodation
With all this on your mind, you should definitely consider Kangaroo Point accommodation, and Bridgewater Terraces would be the best choice for many reasons. Our apartments off resort style accommodation, with spacious fully furnished 1, 2, and 3 bedroom apartments. There is a balcony or a courtyard in each apartment, with the view of the river or beautiful gardens. Every apartment has a kitchen and laundry facilities, and all other major amenities needed for the perfect holiday, and ultimate homey atmosphere. We also offer great facilities including a heated spa, sauna, swimming pool and BBQ area. Surrounded by tropical gardens, Bridgewater Terraces are the usual, ordinary holiday apartments. We're more of an oasis where you can relax and enjoy the serenity. Our accommodation rates are more than affordable, starting from $155 per night. In case you are visiting the city by car, there is free parking.
Conclusion
When visiting Brisbane, consider Kangaroo Point as the location of your accommodation. Our lovely suburb is known for its natural beauty and amazing views of the Brisbane River, central business district, and surrounding suburbs. There are two important landmarks that you can visit whilst on your stay; the Kangaroo Point Cliffs and Story Bridge and for food and drink lovers, you're in luck as Kangaroo Point is a paradise, with many pubs, bars and excellent restaurants around.
For an amazing holiday experience in Brisbane, choose to book Kangaroo Point accommodation at Bridgewater Terraces and explore all the beauty of our gorgeous suburb at rates anyone can afford. Click here to find out more.
Related Topics